10 Romantic Places to Visit in Greenville, South Carolina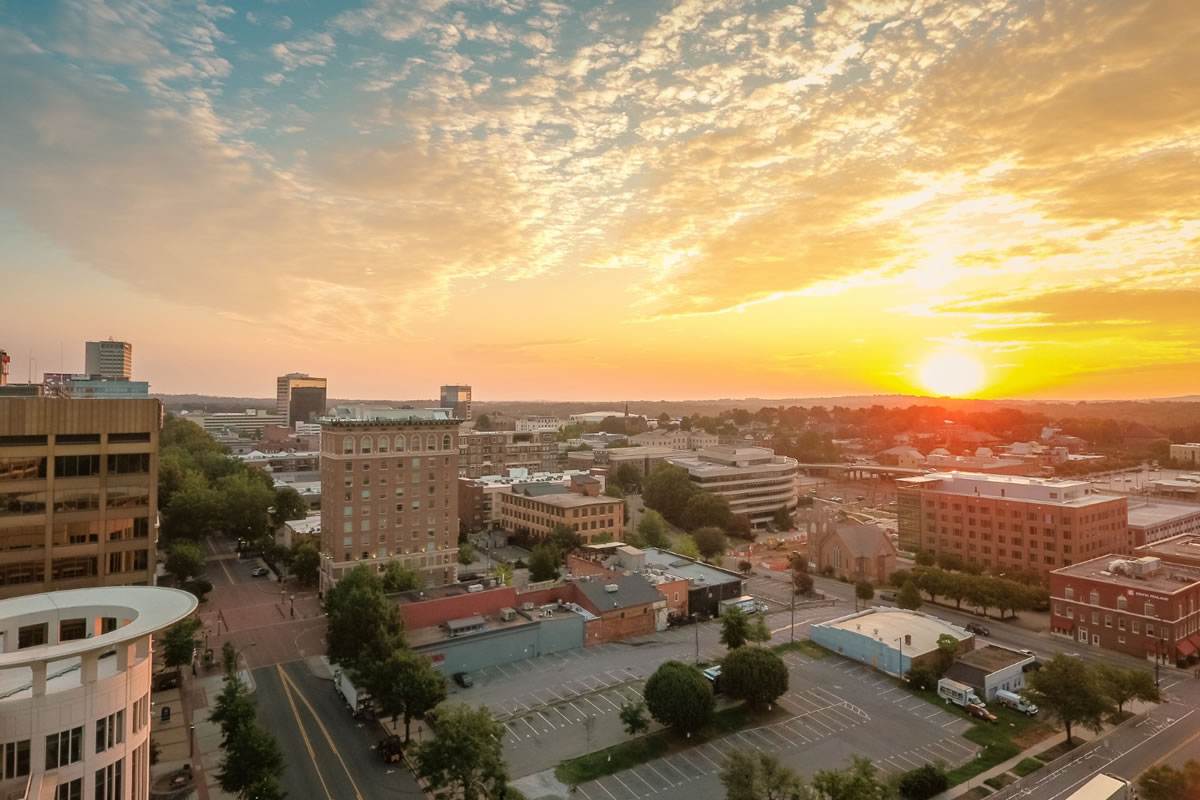 Greenville used to be considered one of South Carolina's best-kept secrets. But, judging by the massive amounts of people seeking out this town for entertainment, arts, dining, and recreation, the secret is finally out. Many couples have heard about the secret to coming to this beautiful city nestled in the Blue Ridge Mountain foothills. Combine the city's natural beauty with a hip vibe, world-class dining, southern charm, and progressive arts community, and you have a wonderful recipe for a romantic getaway. Our experts on furnished housing in Greenville, SC, offer the following ideas for a romantic trip to the city.
Romantic views at the Hyatt Regency
If you're visiting Greenville for the mountain views, you will be thrilled by the floor-to-ceiling windows in a Hyatt Regency suite. Be sure to ask for a mountain view when booking your room. You also love the location of this hotel because it is situated in the middle of downtown, meaning all of the action is just a short walk down the street.
Cozy accommodations at Pettigru Place Bed and Breakfast
If you're looking for more cozy accommodations, you may visit the Pettigru Place Bed and Breakfast. This Inn still offers easy access to the downtown area and is located inside the Pettigru Historic District, within walking distance of nearly everything. The inn provides romantic packages for special touches, including chocolate-covered strawberries, champagne, and flowers.
Romantic dinner at Rick Irwin' West End Grill
For a delicious, romantic dinner, head on over to Rick Irwin's West End Grill, an award-winning steakhouse. The impeccable service and low lighting, along with Linz Heritage Angus steaks, will quickly put you in the mood. The restaurant is a 2018 wine spectator Award of Excellence recipient, so if you are a wine lover, order a bottle. They also have the best key lime pie around, so save room for dessert.
A little love at the Cazbah
If you have a lighter appetite, choose a table for two at the tapas bar, Cazbah. They offer an inspired champagne, beer, and wine list that provides exciting selections, and their Tapas is impressive. Most people enjoy the free-range chicken and enchiladas or lobster cigars. Finally, you and your lover can share a chocolate empanada for a sweet ending to a fantastic dining experience.
Entertainment at Bon Secours Wellness Area or the Peace Center
If you and your partner are in the mood for live entertainment, you can check out a world-class show or performance at the Bon Secours Wellness Arena or the Peace Center. These venues draw some of the biggest names in Broadway Tours, music, and more.
Romantic biking with Reedy Rides
Greenville is known for its outdoor features and natural beauty that urge people to get outside and be active. You and your love can take a bicycle tour through Greenville. Reedy Rides offers guests a picnic tour that includes lunch from a local eatery, an excellent choice for couples. Once you get your directions, take off on your cruiser bike for a beautiful four-hour tour beginning on the Swamp Rabbit Trail. You will enjoy beautiful greenery along the Reedy River that runs through Greenville's downtown and beyond. One of Greenville's most popular outdoor attractions is Falls Park at the Reedy. There are plenty of bike racks available to park your bikes. Then you can walk through the beautiful 345-foot suspension bridge and look at public art displays. If you are in the mood for proposing, this park has many romantic backdrops that create the perfect engagement photos.
Romance on the Brewery Experience
If biking is not your thing, take a romantic walk together to Falls Park to enjoy some sightseeing. After your outdoor adventure, you might take in some of Greenville's breweries to keep the mood light. The Brewery Experience is a three-hour trip through some of our city's best breweries, including Thomas Creek, the area's oldest brewery operation. This tour allows lovers to be whisked away to their destinations in a comfortable 12-passenger van.
Couples massage at River Falls Spa
After your sightseeing and outdoor adventure, you may surprise your sweetheart with a couple's massage at River Falls Spa. Choose the table for two option for an afternoon of complete pampering, with decadent slippers and robes and a visit to the Luxury Suite, where your mind and body will be renewed and soothed by a skilled masseuse. You can also try out the hydrotherapy treatment and then sip champagne in front of a warm fireplace and waterfall.
Dinner for two at Passerelle Bistro
Now that you're completely relaxed, it's time for a romantic night on the town. Check out a table for two at Passerelle Bistro, named as one of the world's most romantic restaurants by CNN Travel. This French influence Cafe overlooks the Falls of Reedy River. Most people start with a charcuterie and fromage plate, and a glass of French wine. Some other things you might enjoy are ratatouille, cassoulet, and other amazingly prepared European dishes. Save room for dessert and share the lavender creme brulee.
Once you fall in love with the city, contact us about furnished housing in Greenville, SC.